Programming language: CoffeeScript
react-tabguard alternatives and similar libraries
Based on the "Miscellaneous" category
Create walkthroughs and guided tours for your ReactJS apps. Now with standalone tooltips!.

A powerful toolkit for building websites with beautiful typography.

React split-pane component.

Easy to configure, lightweight, editable vector graphics in your react components.

Resizable component for React. #reactjs.

Resizable and movable component for React.

React JSON Viewer Component, Extracted from redux-devtools.

Facebook components like a Login button, Like, Share, Comments, Page or Embedded Post.

Universal React avatar component makes it possible to generate avatars based on user information.

React component for blurred backgrounds.

Time Sheet Component for React.

React.js component for uploading images to the server.

🔲 Chessboard built for React

React file input component for complete control over styling and abstraction from file reading.

Configurable animated SVG buttons for react.

Dragable and Resizable window build with React.js.

The React filterbuilder component for building the filter criteria in the UI.

Allows users to create random kaleidoscopes to be used as avatars.

Hash strings to Material UI colors.

An autolink mixin for React.

Change and blend new colors on the background as you scroll.

A React component for display a dial-type chart of PageSpeed Insights.
Do you think we are missing an alternative of react-tabguard or a related project?

Add another 'Miscellaneous' Library
README
React TabGuard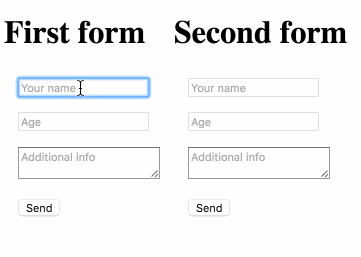 Installation:
npm install react-tabguard
Why?
There is no easy way to limit tabbing to a specified area inside your HMTL document. The typical use case where you want to restrict this behavior would be modal dialogs or lightboxes with forms. It's not desirable to lose focus on the overlay window when tabbing, that's why we created React TabGuard to save the day.
Usage:
'use strict';

let React = require('react');
let TabGuard = require('react-tabguard');

let App = React.createClass({
  render: function() {
    return (
      <TabGuard>
        <input type="text" placeholder="Name"/>
        <input type="number" placeholder="Age"/>
        <button>Send</button>
      </TabGuard>
    );
  }
});

React.render(<App />, document.getElementById('content'));